Archive for May 2015
Livos Australia's Blog
Submitted by Angela: 20-May-2015

More and more woodworkers are turning to the Livos products to use on their furniture. They are loving the natural lustre it gives their beautiful pieces as well it's natural, non offensive smell and the fact that it's completely non toxic!
...
read more
Submitted by Angela: 6-May-2015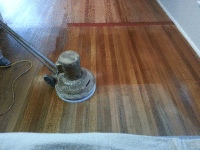 The natural resins, waxes, and oils in Livos products impregnate the timber and seal it from within, allowing you to still feel the natural timber under your feet. A varnish coating forms a plastic layer on top. Over time this "plastic" coating will start to peel and wear off. Because the Livos products penetrate into the timber there is no coating as such to peel off. This allows for an easier rejuvenation down the track without the need to sand your boards, which means no dust and no moving out of your home for days whilst it is completed! Also sanding the boards each time you want your floors done will eventually wear down the timber and you will need to replace the timber which can be quite costly.
...
read more