Archive for September 2014
Livos Australia's Blog
Submitted by Angela: 24-Sep-2014
Site: Award winning St Mary's Primary School
This is a school hall in Bairnsdale that has used local tradespeople to finish their 757 sq mt of new harwood Vic Ash Flooring in May 2011 using the Livos eco friendly oils, even with the many visitors and years later it looks amazing!
...
read more
Submitted by Angela: 10-Sep-2014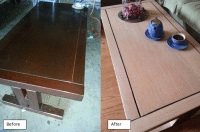 Or so my daughter said when she dragged home a thickly varnished table.
On closer inspection, it was found to be made out of solid hardwood. The size and shape was good but it was so heavily varnished and badly done at that!
...
read more