Archive for April 2015
Livos Australia's Blog
Submitted by Angela: 22-Apr-2015
See what is needed to best prepare your deck for treatment.
...
read more
Submitted by Angela: 8-Apr-2015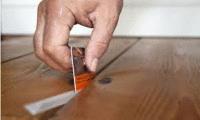 If the gaps are wide and you can drop a card or 5 cent coin through, then it is best to close this gap from underneath (if you can). Filling from the top only is usually not sufficient as once the boards move through use and temperature fluctuations any filling can come loose and fall through too. Where as if the gap is closed from underneath then any loosened putty will be able to be supported .
...
read more