Livos Australia-Eco Friendly Paints and Oils
Livos Australia is located in AXIS Estate in Dandenong South. Our new address is 16 Federation Road conveniently located a few minutes off the Eastlink.
Please note that our phone number and email address will remain the same.
Livos are world leaders in the production of natural oils for floor and decking
Officially established in Germany in 1974 Livos offers a full 100% ingredients declaration. The natural, non toxic paints, oils for internal and external use, cleaners and maintenance products have been successfully used throughout Australia since 1986. Your health and safety is our 1st priority. Livos Australia offers you Natural, Safe and Eco friendly alternatives from conventional polyurethane, synthetic & chemical applications. We have a wide range of natural products:
- Natural floor finishes
- Natural furniture finishes
- Natural decking oils
- Organic paints and tints
- Cleaning and maintenance products
- Kids' face and finger paints
- Food-safe finishes
Choose us - Good for you and good for the environment.
By using LIVOS products, you are making a healthy choice for your home, family, and your environment.

TIPS & TRICKS
From care & maintenance to "how to" info sheets and videos. We share great tips & tricks for you.
learn more


STOCKISTS
Our showroom & warehouse is located Dandenong South Victoria, with independent retailers throughout Australia.
find a retailer


LIVOS BLOG
If you are new to blogs or if you have been blogging for a while please join us.
read more

Product Categories
Livos Australia supplies a large range of plant based non-toxic products for various surfaces. The products are biologically degradable, sustainable and are harmless, even in direct contact with humans, animals and plants.

PRODUCT ADVISOR
Find the right product for your situation with our NEW product advisor function.
find now

Latest From our Blog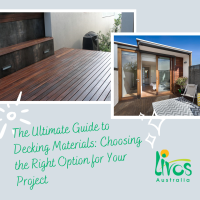 In Australia, various types of natural timber deckings are commonly used for outdoor spaces. Treated pine is a cost-effective option that is treated to resist rot and termite damage. Hardwood deckings, such as Jarrah and Merbau, offer durability, natural beauty, and resistance to pests and decay. Bamboo decking is an eco-friendly choice known for its sustainability and resistance to insects and decay. Each type of decking has its own unique features, benefits, and aesthetic qualities to suit different preferences and requirements.