What is natural paint ?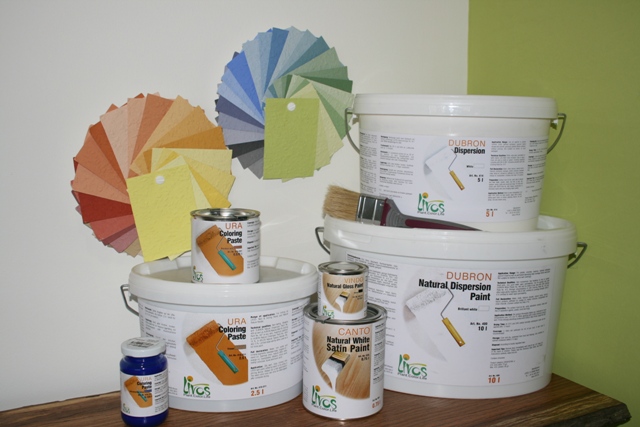 The Livos natural paints are made with naturally occurring raw materials. They are biodegradable and non toxic. Unlike synthetic paints natural paints do not contain any petrochemical substances. They contain such ingredients such as chalk, marble earth pigments etc.
Unlike conventional paints, natural paints or less highly processed. This often means less water and power is used in the manufacturing processes. Natural paints rely on the various qualities of the natural ingredients for binding the ingredients, tinting for colour and a smooth consistency to enable the paint to be rolled on.
Natural points have been used by people for thousands of years. Aborigines in Australia, the Indians of the Wild West, in India and Europe. Although ancient paint recipes differ from today, they still shared a common reliance on naturally grown or sourced ingredients from anything from plants, animals, insects and the local earth. The beauty and enduring durability of natural paints can still be found and appreciated in ancient paints found throughout the world.
Natural paints are the best and healthiest option especially for those that are sensitive to chemicals, the pregnant, small babies and the elderly. Livos offer a full ingredient discloser of all the ingredients allowing you the consumer to make an informed and final choice.
Using natural paints in not only a healthy option it is also more sustainable and environmentally friendly. There are fewer toxins released into the air. Less are used in the manufacturing as well due to the less energy intensive paint production. They are biodegradable with no harm to the environment once disposed off.
It is critical to have a breathable paint on substrates that breathe such as straw bale and mud brick. Also where there is humidity or moisture issues, natural paints allow the moisture to move in and out of the substrate with no mould build-up. There are no fumes or bad smells and the indoor air climate is regulated.
Natural paints use mainly earth pigments for colour and whilst there is not the 101 various colours of synthetic paints, one can let ones imagination run wild with the mixing and creating of various paint colours and shades. As there are no synthetic preservatives, the Livos paints come separate to the pigments. One mixes the two when one is ready to paint. The surfaces are washable but not scrubbable..but then again, how many scrub their walls.