Sanding and working with the Livos non toxic wood stains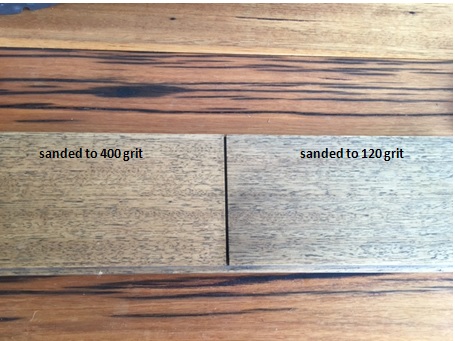 Wanting to maintain the lighter "sanded" look on your project? OR you may specifically want a darker stain?
With the Livos non toxic natural penetrating oils it is not recommended to sand "too" finely. Yes, you may want that beautiful fine furniture feel but this can be achieved in a different way.
If one sands the timber surface to e.g. 400 grit (as per sample) the pores are "glazed" over. This won't allow maximum penetration and with stains the depth of colour is not as intense as when one sands to e.g. 120 grit. Yes you will use less product but you would still want a durable finish that actually works with minimal fuss and be easy to maintain to boot! Sanding needs to be more refined with stains too. Any scratches in the surface left by sanding paper will be highlighted even more. The pigments actually settle into these scratches and this then becomes more obvious by the stronger coloring. After the initial coat you are able to sand finer if you desire.