Safe & Natural kids paints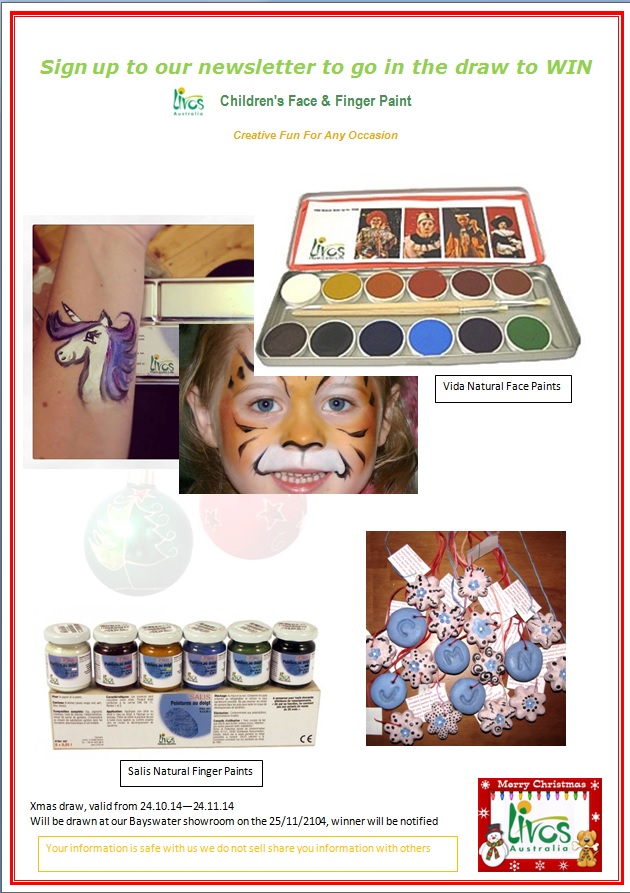 Children, more so than adults are influenced and effected by the environment, pollutants and chemicals, so why would you allow your child to use something on their sensitive skin if you did not know what it is made of?
Both the Salis finger paints and the Vida face paints are free of harmful substances and have readily avaliable a full list the ingredients. By seeing a label marking a product water based or non toxic gives one a false sense of security. Often though they contain a long list of synthetic and chemical components. One would assume that they would be safe however this is not entirely accurate. How can you make an informed choice if you do not know what the product is made from? Why is the manufacturer not supplying you with the full disclosure?
Although the finger paints are safe to use they are certainly not designed for eating. To deter kids from eating the paints, Livos have added the bitter gentian root to the product. These fun colorful paints may be used on paper, cardboard, wood, stone, unglazed clay, and even salt dough. The kit comes with 6 individual vibrant colours which may be diluted with water and may be applied with fingers, by brush or sponge.
The face paints are made without preservatives. They have excellent coverage and skin tolerance. They hold up well to perspiration and are easy to apply and remove, all while providing vibrant color and are easy to use.
Allow your children to play and let their creative imagination run wild...safely.
Until the 24th of November all our new facebook likers will be entered into the draw to WIN both of these products.