Do you really know what's in your child's Face Paint?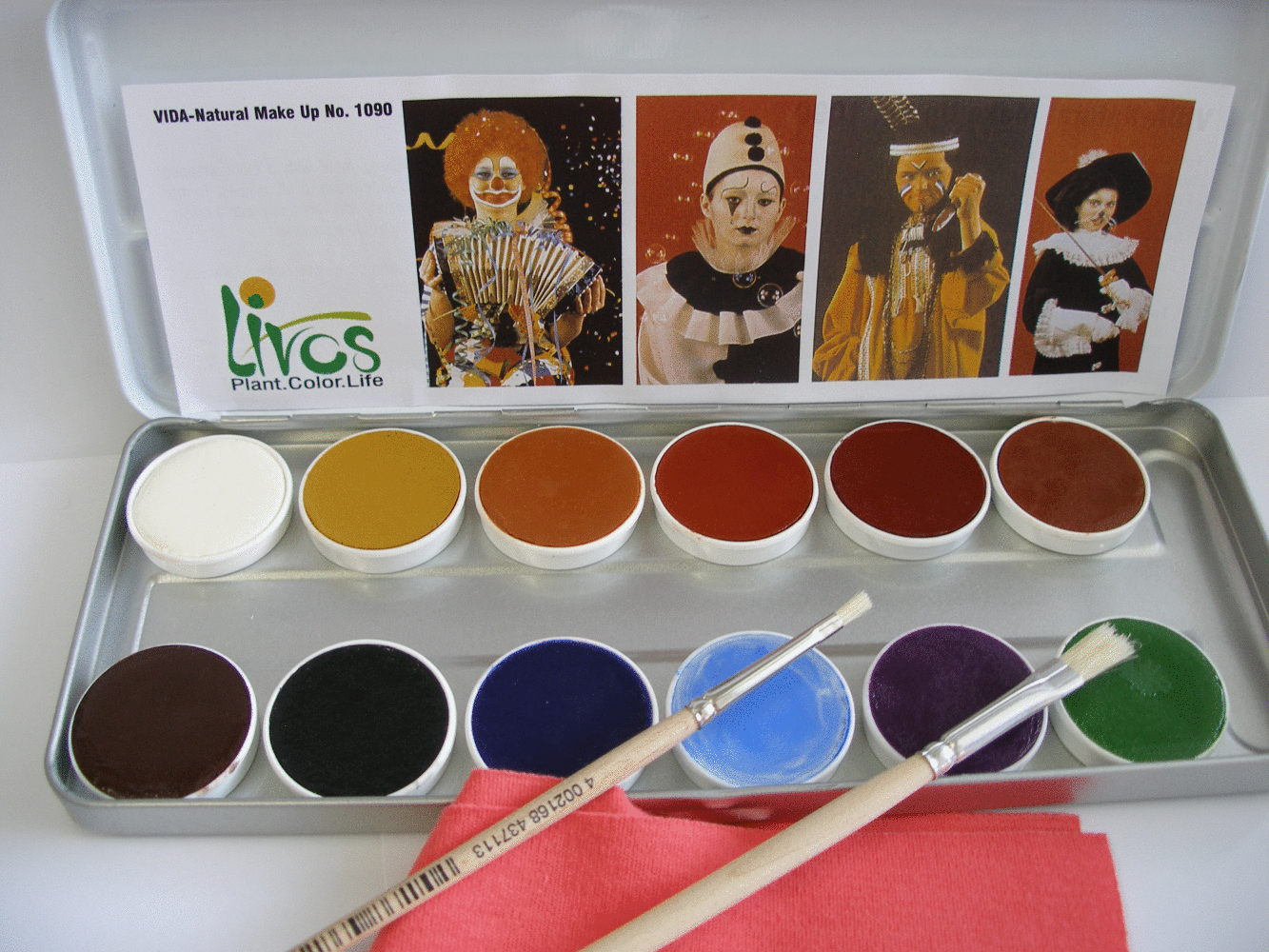 Face painters are everywhere…at fetes, farmers markets, birthday parties, festivals and school events. And, with Christmas just around the corner, purchases of face and body paint will be at their peak.
But, what is in face paint? What is actually being absorbed by your child's skin or ingested when it's applied near their mouth?
The Campaign for Safe Cosmetics (2009) conducted a study that revealed some alarming facts. ALL face paints tested contained dangerous heavy metals and toxic substances that are banned or restricted in some countries. Alarmingly, they also found that not all ingredients in some products were listed and therefore parents had no way of knowing what's really in the products.
Additionally they found:
6 out of 10 face paints contained nickel, cobalt and/or chromium (all skin allergens) "at levels far exceeding recommendations of industry studies".
10 out of 10 face paints contained lead from .054 to .65 ppm.
Some contained hazardous chemicals banned or restricted in Europe, Canada and Japan as well as colors not approved for use in cosmetics by the FDA.
Labels had misleading claims such as "hypoallergenic" on products containing known skin allergens.
Consumer NZ in 2014, tested 15 face paints.
They found:
All face paints tested claimed they were "safe" or "non-toxic" but also had a warning not to apply near the eyes, lips or on sensitive or broken skin.
Some had no or incomplete ingredients lists.
Most had no contact information for the importer or supplier.
A bit closer to home. A study conducted by The Australian Competition and Consumer Commission (2011) found that there are children's face paint with excessive levels of lead being sold on the Australian market. Products surveyed included finger, face and body paints (for children), toy-style make-up, modeling clays, play dough and plasticine, sticky 'goo' toys (such as slime, goo, noise putty and splat frogs) and art paints, crayons and pastels. Although the vast majority of the products surveyed were found to comply with the mandatory standard, Ms Court the ACCC Commissioner advised that:
"If your children are using products that are applied to their skin, such as make-up, face and body paints, or toys that are handled a lot and may leave residues such as play dough and 'goo,' ensure you wash them thoroughly from your children's skin immediately after use."
Parents and carers are also urged to visit the Recalls Australia website for details on any recalls.
Does anyone else think there is something wrong with these statements? Shouldn't the products sold on Australian shelves be safe?
All these facts are frightening, however the one that concerns us the most is that many face paints have no or incomplete ingredient lists displayed. An ingredient list gives the consumer power to make a fully informed and educated decision. Without this a parent would never know that there may be lead or other harmful substances in the face paint they are purchasing for their child.
Lead is banned from cosmetics in Canada and Europe and Australia has mandated standards. However, be careful of products you purchase on line as they are not filtered and may not meet Australian standards, therefore could still contain these toxic ingredients.
If the face paint says hypoallergenic or dermatologically tested, is it safe?
No, not necessarily. These terms are loosely regulated, so a company can make up its own definition (SafBaby, 2016). In fact, some of the face paints tested by the Campaign for Safe Cosmetics were labeled hypo-allergenic and contained the highest levels of lead, nickel and cobalt (The Campaign for Safe Cosmetics (2009).
How do natural face paint products rate?
Unfortunately, some face paint products that are labeled as natural are still not safe. One ingredient to be aware of is a preservative called Optiphen, also known as Phenoxyethanol (and) Caprylyl Glycol (and) Sorbic Acid. It has a 5 rating on EWG"s Skin Deep Report with "strong evidence indicating it is a human skin toxicant or allergen" (SafBaby, 2016).
How do Livos face and finger paints rate?
Due to the ever increasing numbers of allergy sufferers, including those sensitive to various chemicals, Livos has openly declared the ingredients in all their products, and has been this way since 1984. This allows the consumer to make an informed and final decision. Additionally, not only the face paints but all other Livos products are made without harmful chemicals, LIVOS face paints contain only biologically and environmentally responsible ingredients that are grown without the use of pesticides and bio degradable.
Parents shouldn't have to worry that face paints containing lead and other hazardous substances, and have a right to know what's in these products. Clearly, companies are not making the safest products possible for children, always check the ingredients lists and make sure you make an informed decision about the products you are purchasing for your children and beware of online purchases. If a manufacture does not declare or will not advice you of the ingredients of their products, you need to ask why?
References and Additional Resources
The Campaign for Safe Cosmetics - http://www.safecosmetics.org/wp-content/uploads/2015/02/Pretty-Scary.pdf
Consumer NZ - https://www.consumer.org.nz/articles/face-paints
Lead facts - https://www.epa.gov/lead/learn-about-lead -
SafBaby - http://www.safbaby.com/face-paint-is-it-worth-the-risk/
Toxic lead Levels in children's Halloween face paints -https://www.accc.gov.au/media-release/toxic-lead-levels-in-children%E2%80%99s-halloween-face-paints