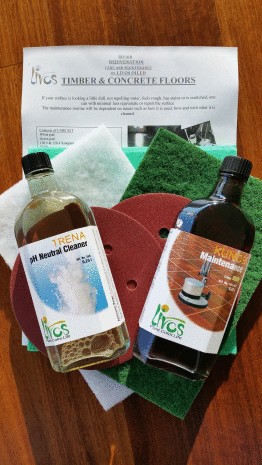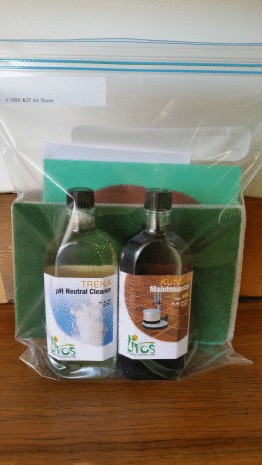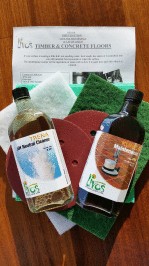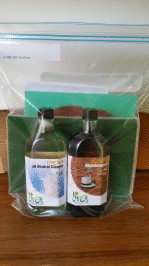 Tips & Tricks
(170kB)
Related Products
Timber, Concrete and Cork Floors Care Kit
Product Description
A handy DIY mini care kit for touching up a tired surface, worn area, repairing any minor scratches and for long term cleaning. It includes everything you will need to repair or rejuvenate your Timber, Concrete or Cork floors.
This Kit includes:
A 'How To' Instruction sheet.
One 0.25l TRENA pH Neutral Cleaner # 556 to be diluted and used for long term cleaning. It is mild and effective and does not break down the oil wax layer. It is a concentrate and useable on various other surfaces as well.
One 0.25l KUNOS Maintenance Oil # 1802. A very easy to use oil product to assist in the repair. (Alternatively the original oil used to treat the floor surface may be used)
One 120 # orbital disc pad. Typically the floor would have been finished off in 120#
One 150 # orbital disc pad. It is not unusual for floors with a stained finish to have been finished off in 150#
One blue scourer. Light abrasive and excellent in removing slight scratches in timber of removing various residues off the surface.
One white polishing pad. For buffing/polishing in of the oil
One Cloth. To either apply or remove excess oil.