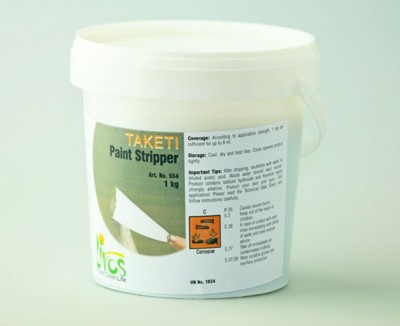 Material Safety Data Sheet
(125kB)

Technical Data Sheet
(79kB)
TAKETI Paint Stripper #554
Product Description
Highly alkaline stripping agent, consistent, very high yield.
Prepared ready for application.
Not avaliable by webshop. Please contact us directly to purchase this product.
Suitable for
For stripping saponifiable dispersion paints, oil paints, natural and synthetic resin varnishes from various surfaces.
After the application of TAKETI, neutralize the surface with water or weakened citric acid. The product is developed with caustic soda, and therefore reacts strongly with alkalis. Protects skin and eyes from contact.
Full Declaration
Water, caustic soda, cellulose and bentonite.
Coverage
According to application strength, 1 kg is sufficient for up to 8 m2
Cleaning Up
Clean tools with water immediately after use.