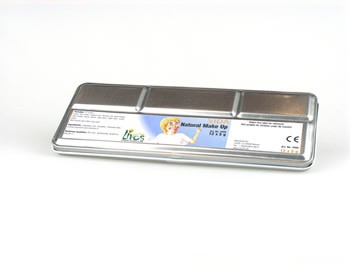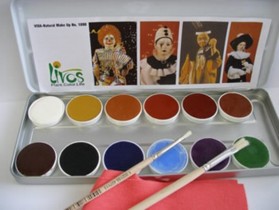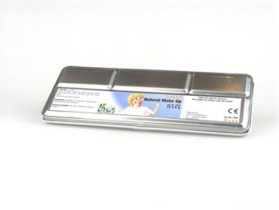 Material Safety Data Sheet
(98kB)

Technical Data Sheet
(76kB)
Related Products
VIDA Non Toxic Natural Make-up Set #1090
Colours:
011 Ochre
051 Persian red
101 Black
123 Light blue

021 Red ochre
081 Dark brown
111 Green
153 Violet

041 English red
083 Light brown
121 Dark blue
201 White
Product Description
The VIDA natrual Make-up set is a non toxic product, safe for babies and kids of all ages. The set includes 12 colours and comes with 2 brushes and cotton face cloth. Made from natural raw materials, no preservatives, the paints are skin friendly and have excellent coverage and skin tolerance. They are easy to apply and remove and hold up well to perspiration.
Suitable for
Children and adults, for Carnival time or any time! 0% VOC, skin-friendly also suitable for toys.
Full Declaration
Vegetable oils, beeswax, carnauba wax, mineral pigments and Vitamin E.
Coverage
Apply fine lines of desired motive with a cloth-wrapped pencil for contouring, and then use a wide brush to fill in-between areas. To mix different colors, apply each color separately very thinly with a brush, and one on top of the other. Add a little oil to make colors creamier.
Cleaning Up
Afterwards, clean face with a suitable cleansing cream or lotion.
Important tips Please protect clothing. Make-up spots are difficult to remove.