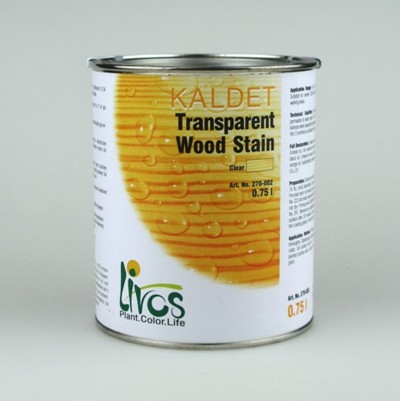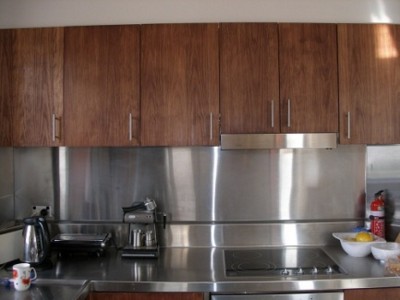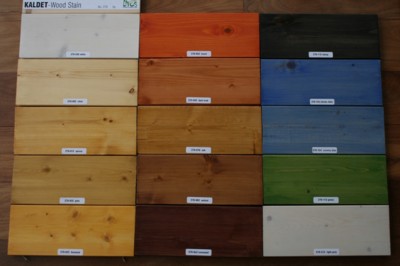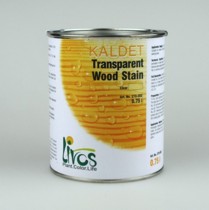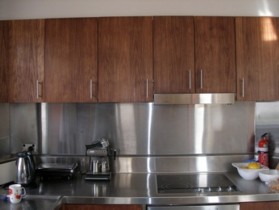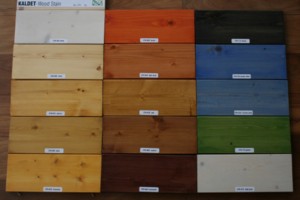 Material Safety Data Sheet
(105kB)

Technical Data Sheet
(106kB)

Colour Chart
(341kB)
Related Products
KALDET Transparent Wood Stain #270
Sizes:
0.05 lt; 0.375 lt; 0.75 lt; 2.5 lt
Colours:
Interior & Exterior:
022 boxwood
113 green
122 ultramarine blue
124 country blue
212 light grey

Interior Only:

002 clear

114 Mint green
032 pine
042 dark teak
052 brazil


202 white

062 walnut
076 oak
082 rosewood
102 ebony

Product Description
Decorative, open-pored, permeable to water vapour. Available in 15 colours. After the 3rd coat sufficiently pigmented products are also weather resistant. May also be used as a primer under the transparent ARDVOS or KUNOS.
Note: KALDET Transparent Wood Stain No. 270 "002 clear" does not contain orange oil and is therefore also suitable for those who are sensitive to terpenes.
Suitable for
Interior solid wood (also toys) as well as for veneers, OSB, Multiplex and exterior solid wood. Not suitable for balcony floors or other high-traffic areas.
Full Declaration
Linseed oil - stand oil - natural resin ester, linseed oil, earth- and mineral pigments, linseed oil - stand oil, linseed oil — wood oil - stand oil, micronized wax, orange oil, isoaliphates, alumina and drying agents free of lead.
Coverage
1 undiluted litre covers approximately 15 to 30 m² . Could be considerably less, depending on the surface condition and the absorbency of the wood. Test application is recommended!
Cleaning Up
We recommend SVALOS Thinner No. 222 to clean equipment immediately after use. Alternatively mineral turps may be used.